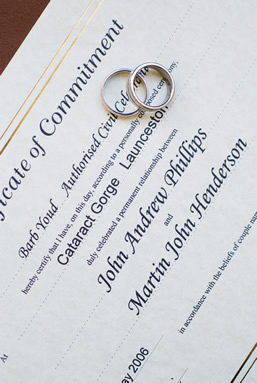 A commitment ceremony is a public declaration of life-long commitment, love and dedication between two people. The occasion can be shared with family and friends. You may include poetry, music and readings that hold a special meaning for you.
A commitment ceremony is a significant event in your life. It is a way of celebrating the union of people wishing to share their lives together.
Commitment ceremonies mean many different things to different people.
It can be like a wedding, with all the trimmings, but as it is not legally binding there is no marriage certificate.

It can be the most alternative event imaginable.

It can be a ritual to bless your relationship, or an intimate exchange between just you and your partner.

It can be a family rite of passage to strengthen the bonds between parents and children in a new stepfamily.
Whatever your choice in ceremony, style and presentation, I am happy to work with you to design a personal, meaningful ceremony.
Commitment ceremonies may be performed for same sex couples or traditional couples who do not wish to legally marry.
Same sex relationships may be registered in Tasmania.
Tasmania's relationship laws recognise a wide range of different personal relationships.
These include mixed-sex and same-sex couples. Tasmania's relationship laws allow all couples to register their relationships with the Tasmanian Registrar of Births, Deaths and Marriages.

Couples are able to lodge a Deed of Relationship for registration in exactly the same way that marriages are registered. Partners in a registered relationship must be Tasmanian residents and adults.

This means residing in Tasmania for at least six months and being 18 years of age or over.

For further information : http://www.relationshipstasmania.org.au

Fees
Commitment Ceremony fee from $450
This includes deposit of $100.00 - Booking fee. (non refundable)
Included in the fee is initial contact with those involved in the ceremony. This may take up to an hour.
Crafting a ceremony appropriate to your needs.
All mail, telephone calls and emails.
Use of PA System if required.
Travel to Ceremony if less than 20km round trip from Celebrants home. *
Presentation of Ceremony
Printed Certificates
Copy of Ceremony
* At the discretion of the celebrant where the distance of the return journey from the Celebrants home to the place of the ceremony exceeds 20km there may be a surcharge of 70c per Km