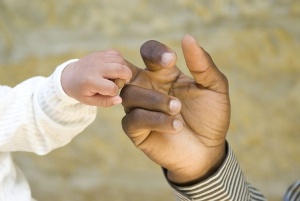 Photo courtesy of Photobat
A Naming Ceremony is an opportunity for the family and friends to celebrate formally and welcome a child into the community. As an alternative to religious ceremonies it allows the family to celebrate this happy occasion. For the person being named, at a later date they can consider their own spiritual decisions.
To give a child a name is a particularly important part of receiving them.
A name giving ceremony is a cultural celebration, an occasion when a new life is celebrated and welcomed into the world. It allows announcement of chosen names to your family and friends and you may give the reason why these names were chosen.

It allows promises of commitment to nurture and support the child into adulthood. Other people may be chosen who are prepared to promise a special supportive relationship with the child - Godparents, mentors or guardians.
I see a Naming Ceremony as a time when people come together to pledge their love, loyalty, support, help and interest in the child's future life ahead. In consultation with the family I will design a personal ceremony for you and your child.
Most naming ceremonies are performed for children, however adults or adolescents may choose to have a ceremony. This may be to mark a period of change in someone's life or because they have not previously had a ceremony in childhood.

Throughout history we have used symbols to represent elements of society. Symbols are things that stand for or represent something else. You may wish to include a ritual of candle lighting, balloon release, tree planting or sprinkling of water.
Fees
Standard fee for Naming Ceremony from $350.00
This includes $100.00 booking fee. (Non refundable) Included in the fee is initial contact with family. This may take up to an hour and a half.
Crafting a ceremony appropriate to your needs.

All mail, telephone calls and emails.

Use of PA System if required.

Travel to Ceremony if less than 20km round trip from Celebrants home. *

Presentation of Ceremony

Printed Certificates

Copy of Ceremony
* At the discretion of the Celebrant where the distance of the return journey from the Celebrants home to the place of the ceremony exceeds 20km there may be a surcharge of 70c per Km