As a Registered Civil Marriage Celebrant Barb Youd brings an enthusiasm to deliver personalised ceremonies of high standard.

Barbara offers a personal, professional service. In close consultation
with you she will assist and arrange
a ceremony to suit your needs.

Whether grand or small, traditional
or spiritual she will help organise
your memorable ceremony.
Your wedding day is one of the most important days of your life. Barbara is committed to delivering the ceremony as you would like it, at whatever location you choose.

Marriage by a civil celebrant can be as formal or as simple as you wish.
The wedding may take place at the beach, in a garden, on top of a mountain or in a more formal venue of your choosing.
Specialising in Tasmania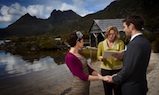 Whatever your choice in ceremony, style and presentation, Barb is happy to work with you to design a personal, meaningful ceremony.
Testimonials
Barb fitted into our style of wedding beautifully. We wanted a relaxed and casual ceremony and she was able to make everyone feel relaxed and part of the occasion. A memorable occasion for us and all our guests! Excellent out-fit! Thank you
Carolyn and Rodney Wedding at Marion's Vineyard Tamar Valley
From my writing Desk
BARB TAKING A BREAK
2013-2014 what a remarkably busy, fun filled time it has been however life is ever changing and often full of surprises.
Due to family illness I have decided to take some time off.
Currently I am unsure how long this will be. During my break I suggest you contact one of my professional colleagues through Google search.
2011- 2012. What an amazing two years! Where did it go?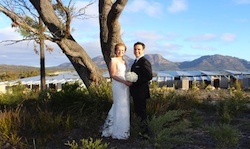 Saffire at Freycinet
With laughter and tears, jokesters, pranksters, broken zips and split trousers, jammed rings, wilted flowers, late brides, early guests! From Hummers to Corvettes, in brilliant sunshine, pouring rain, snow, heat wave, at mountains, beaches, vineyards and homesteads.
Tasmania continues to excel; Quamby Estate, with its luxurious rooms and magnificent gardens, Red Feather Inn, heritage listed Georgian buildings and intimate garden, Josef Chromy Vineyard over-looking the picturesque vineyard and lake, Mona Museum of Old and New Art at Moorilla winery in Hobart and 'The Jewel of Tasmania' Saffire at Freycinet! Is it any wonder why so many choose to exchange their vows in our beautiful island state?
April – November 2010. It appears our secret is out!

Tasmania, our hidden treasure, is the place to be wed!

With so many delightful Tasmanian couples and with brides and grooms flying in from Germany, England, Wales, Netherlands, India, China , Indonesia, Philippines, America and Canada and from every state in Australia, this past 12 months has kept this Celebrant extremely busy.

With each couple comes a wonderful life story!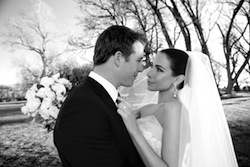 Photography by Tarsha Hosking
And so it was when asked to officiate at the wedding of Kate Ritchie and Stuart Webb. What an adventure! What fun! What a remarkable, gorgeous couple!
With so many magnificent places to be wed perhaps your most difficult decision to make will be which setting you will choose to invite your family and friends to celebrate your special day.
Tassie may never be the same!
Barb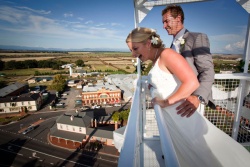 Photo courtesy of Rob Burnett
January – March 2010 brought a flurry of weddings with brides arriving by GT Falcons, FJ Holden's, trucks, helicopters, with one brave bride arriving by air... by crane. Being lowered to your wedding by crane makes headlines in local paper The Examiner March 7th 2010.... "A Hadspen couple has lifted the standards of wedding arrivals with a spectacular bride entrance..." Trinity and Grant's wedding at Jessen Lodge, Longford, brought out not only the wedding guests but also local residents to see the fun!... I love my job!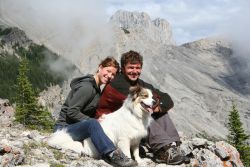 2009 – 2010 Wedding season is now in full swing in our beautiful Island state, Tasmania!
With spring comes the kaleidoscope of colours, emerald green fields, aqua oceans, brilliant white beaches and a flourish of magnificent blooms. With bookings for weddings, at the majestic Mt Wellington - Hobart, to the picturesque Vineyards of the Tamar Valley, the magnificent Colonial Estates of Strathmore, Quamby and Entally, the pristine beaches of Freycinet, Binalong Bay and Bridport, to the rugged bush land of Cradle Mountain, this year is certainly going to be an exciting one.
As a 'warm up' to the season in August I travelled to the freezing Rockies in Canada to officiate at the wedding celebration of a Tasmanian friend Stephen, who married the love of his life Catherine. Forty friends and family from around the globe made the trek to the top of West Wind Pass, near Banff, for an unforgettable celebration of Catty and Steve's love. Everyone agreeing, the perfect place, truly expressing Catty and Steve for who they are. Another memorable day!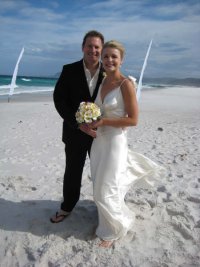 'From the mountain to the Beach' – A very windy day for sure! The 30-40 knot winds at Friendly Beaches on the East Coast of Tasmania, where Hannah and Jon celebrated their marriage! not that it daunted the bride and groom, but rather enhanced their vibrant personalities. Guests and bridal party all enjoying the magnificence of Freycinet National Park.
If you are looking for suggestions of Tasmanian venues from the magnificent Colonial Estates, Vineyards, National Parks etc go to Links above.
My aim of providing you with professional guidance and delivering a personalised, treasured ceremony, one which is memorable for you and your guests are endorsed by the notable testimonials received.
If you would like to discuss your special day please contact me for a chat,
I look forward to it!
Barb.