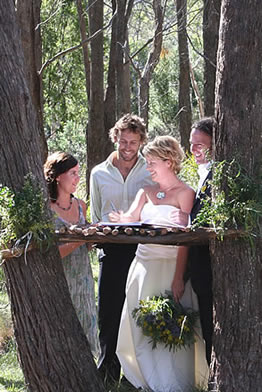 Your wedding is one of the most important days of your life. I am extremely passionate about being a Marriage Celebrant, and would be proud and honoured to be given the opportunity to officiate at your wedding ceremony. As an Authorised Marriage Celebrant I am committed to delivering a personalized ceremony, just as you would like it, at whatever location you choose.
Your wedding can be as formal or as simple as you wish. It may take place at the beach, at a waterfall, in a garden, on top of a mountain or in a more formal venue of your choosing.

I will help create the perfect ceremony for you. I offer a personal, professional service and in close consultation with you will assist and arrange a ceremony to suit your needs. Your unique ceremony will be remembered with pride and satisfaction.
For weddings requiring a PA system, my wireless portable address system is modern technology at its best. Its rechargeable battery system allows it to be used anywhere regardless of availability of main power. The CD Player allows selected tracks to be played with ease.
I have samples of weddings, poems, vows etc which are available to you, allowing you to help create your own personalised ceremony.
I would love the opportunity to meet you and discuss ways in which I can help create the wedding that is right for you.
For further information about how I can help you please feel free to call me on 03 63 346010 or 0438 346 010

Legal Requirements
To marry, you must provide one month and one days notice to your marriage celebrant.
A notice of Intended Marriage form must be signed by both parties.

Both parties to the marriage must also be over 18 years of age.

You will need to supply your Birth Certificate (or if born outside Australia , a Passport can be provided.)

If you have been previously married, you also need to provide a copy of the Certificate of Divorce (in case of divorce) or Death Certificate (if widowed).
* Unless special dispensation gained from a Magistrate or Prescribed Authority.
Fees
My current fee structure reflects two different requirements. These are standard prices and may require adjustment once I have an understanding of the type of ceremony you require.
Silver
This is an office ceremony not unlike the Registry Office, based on one meeting with bride and groom prior to the wedding day and then a short ceremony on the wedding day with bride, groom and two witnesses.
Fee: $390
This includes deposit of $150.00 - Booking fee. (non refundable)
Platinum
As an experienced Marriage Celebrant I offer a personal, professional service and my current fee reflects my training, experience and the time I spend helping make your wedding ceremony perfect.
My fee includes:
All meetings with you, there may be 3-4
All phone calls, emails and faxes no matter how frequent, and there are often many.
Writing your personalized wedding ceremony and all changes required.
Preparing the legal paperwork, NOIM, certificates etc
Rehearsal at Celebrants Office.
Use of my P A System and CD Player, table, chair, cloth, umbrellas.
Use of Celebrants compendium to help you choose wording, readings, vows etc.
Wedding Ceremony. (I always arrive at least 30 minutes early)
Registering the legal paper work after the wedding ceremony.
Copy of your wedding ceremony and Marriage Certificate on the wedding day.
Fee: from $550 Launceston area, additional charge for other areas, available on request
This includes deposit of $150.00 - Booking fee. (non refundable)

There is an extra charge for:
Where the distance of the return journey from the Celebrants home to the place of the ceremony exceeds 20km there may be surcharge of 70c per Km
Extra correspondence for marriage if required from Consuls or Embassies.
On-site rehearsal.
For ceremonies involving unconventional time, place or risk.